PT Hisamitsu Pharma Indonesia collaborating with the First Inspirational Salonpas® Brand Ambassador - Nadine Chandrawinata , supporting the future young generation's productivity and creativity through healthy lifestyle using its Long-seller Patch Product, Salonpas® Patch.

Nadine Chandrawinata represents Salonpas® Patch users' characters who have many aspirations, dynamic, care for social environment and never give up on reaching their best achievement.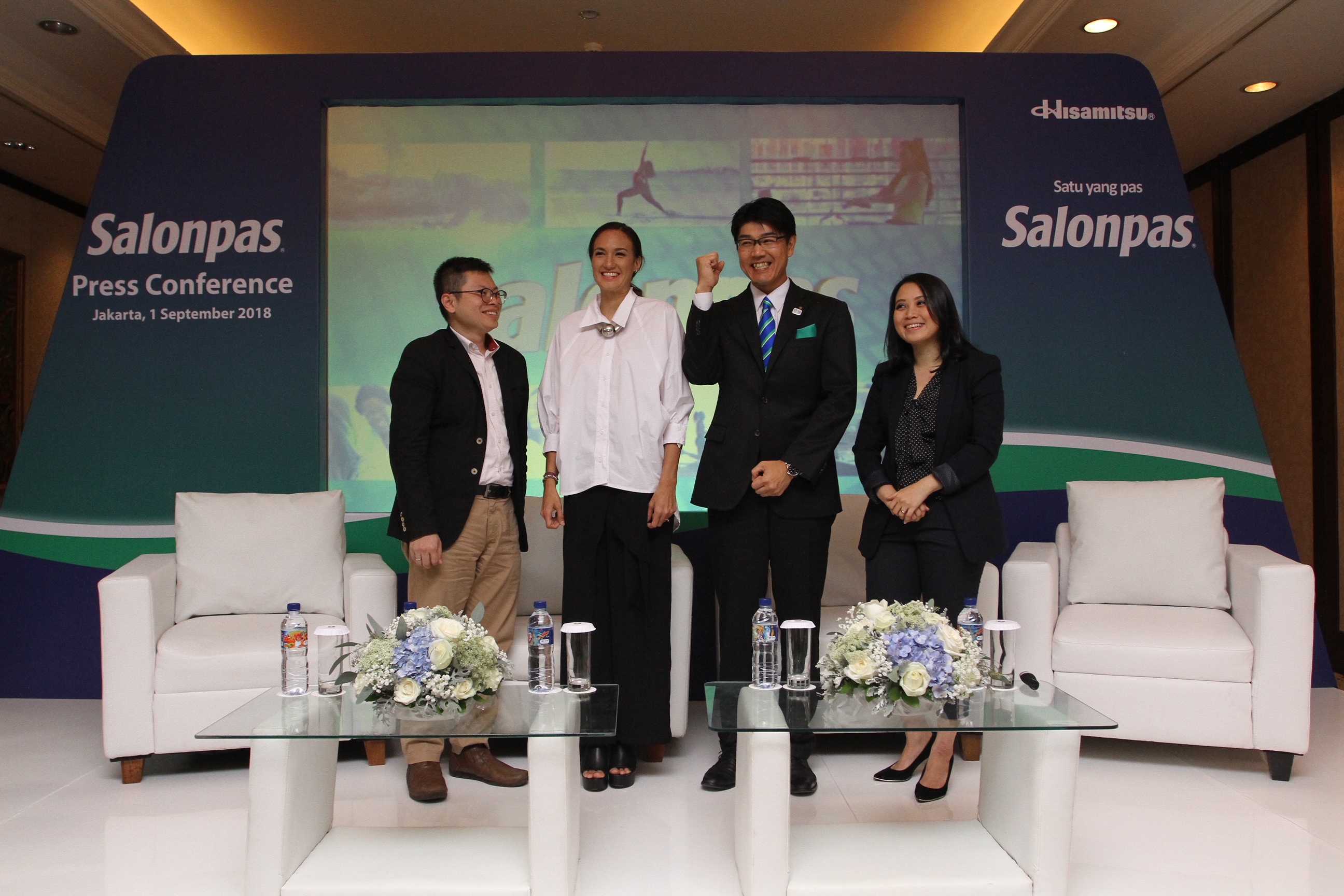 "The commitment to improve the Quality of Life (QOL) around the world has been Hisamitsu mission since the company was established in 1847. In Indonesia, supporting the best effort of each individual who wants to achieve their aspiration has been PT Hisamitsu Pharma Indonesia priority to be able to support and help every individual by overcome their pain and soreness which easily occur while giving out their effort to achieve the best performance, or in order to live a healthy life in a safe and convenient way. Our main product, Salonpas® Patch, has been the most trusted and loved product which is widely used worldwide." said KATO, Hirofumi, President Director of PT Hisamitsu Pharma Indonesia.
Salonpas® Patch effectiveness can be experienced by its users because of its Transdermal Drug Delivery System (TDDS) that has been the main fundamental technology of Hisamitsu in formulating their products. With TDDS technology, as soon as Salonpas® Patch is attached to the skin, the active ingredients will penetrate directly through the epidermis layer and circulated to the source of pain. This system is able to retain the active ingredients to stay in the blood longer than other oral or injection form.
Other advantages of TDDS are the ability to mitigate gastrointestinal side effect when drug is being taken orally, or for patients who suffer from swallowing problem, and also diminish the side effect caused by active ingredient's metabolism in the heart and epidermis skin layer once the patch is detached from the skin.
Refers to the survey conducted by Nielsen in 11 main cities in Indonesia,2 67% of younger generation age 20 to 29 years old are mainly first jobbers coming from middle class. With a different way of thinking compared to their successor, they build themselves as the individuals that give their best to reach their dreams while keep being health conscious, enjoying life, always look attractive and have the awareness to contribute to the society in between their busy daily life and give attention to the family matters.
PT Hisamitsu Pharma Indonesia bekerja sama dengan Nadine Chandrawinata selaku Duta Besar dari Salonpas® untuk mendukung produktivitas dan kreativitas generasi muda di masa depan melalui gaya hidup sehat dengan menggunakan produk terlaris dari Salonpas yaitu, Salonpas® Patch.

Nadine Chandrawinata merepresentasikan karakter pengguna dari Salonpas® Patch yang memiliki banyak aspirasi, dinamis, kepedulian terhadap lingkungan sosial dan tidak pernah menyerah untuk mencapai pencapaian terbaik mereka.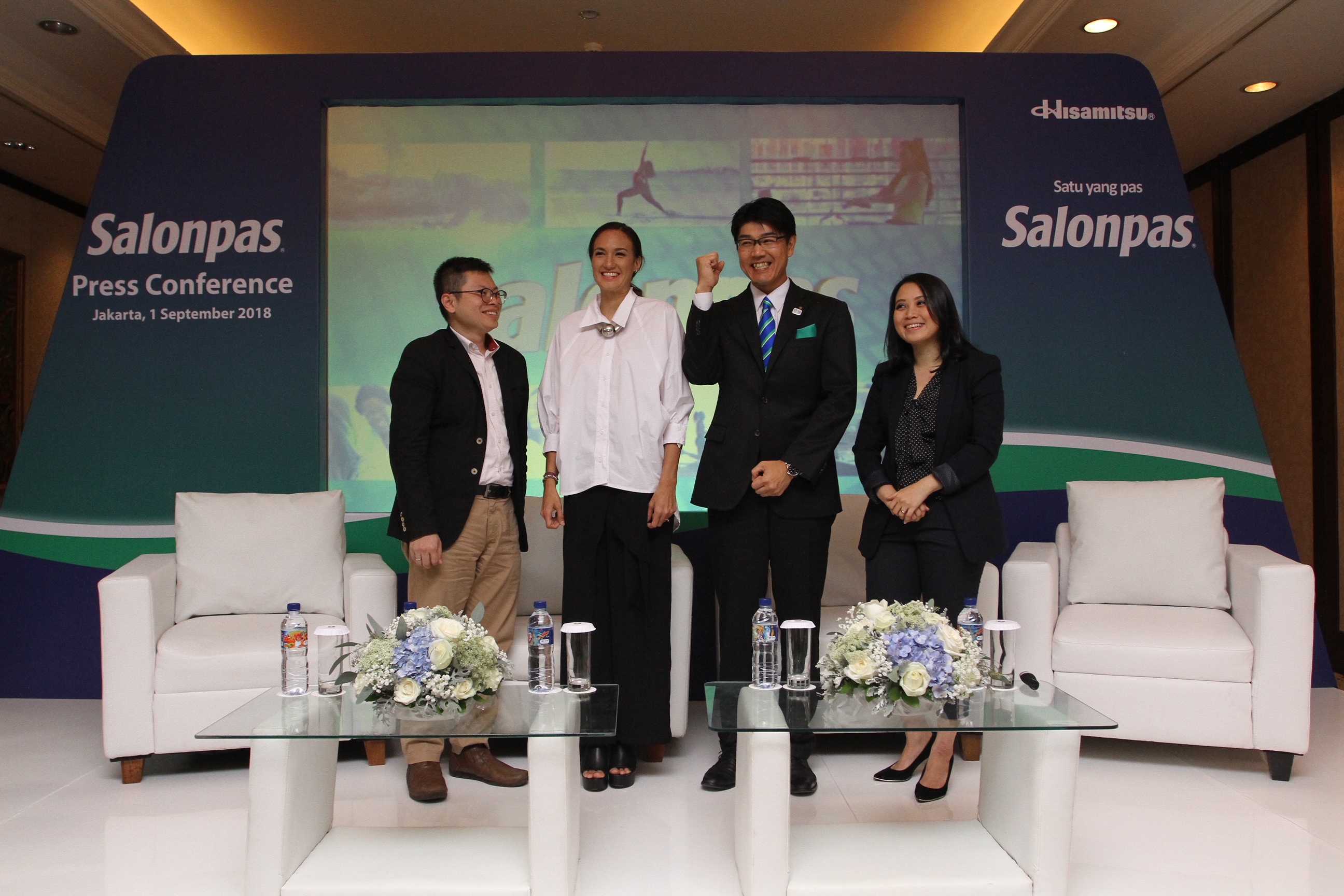 "Komitmen untuk meningkatkan Kualitas Hidup (QOL) di seluruh dunia telah menjadi misi Hisamitsu sejak perusahaan ini didirikan pada tahun 1847. Di Indonesia, mendukung upaya terbaik setiap individu yang ingin mencapai aspirasi mereka telah menjadi prioritas utama PT Hisamitsu Pharma Indonesia. untuk dapat mendukung dan membantu setiap individu dengan mengatasi rasa sakit dan rasa sakit mereka yang mudah terjadi saat memberikan upaya mereka untuk mencapai kinerja terbaik, atau untuk menjalani kehidupan yang sehat dengan cara yang aman dan nyaman. Produk utama kami, Salonpas® Patch, telah menjadi produk yang paling dipercaya dan dicintai yang banyak digunakan di seluruh dunia, "kata KATO, Hirofumi, Presiden Direktur PT Hisamitsu Pharma Indonesia.
Keefektifan Salonpas® Patch dapat dialami oleh penggunanya karena Transdermal Drug Delivery System (TDDS) yang telah menjadi teknologi dasar utama Hisamitsu dalam merumuskan produk mereka. Dengan teknologi TDDS, segera setelah Salonpas® Patch terpasang pada kulit, bahan aktif akan menembus langsung melalui lapisan epidermis dan diedarkan ke sumber rasa sakit. Sistem ini mampu mempertahankan bahan aktif agar tetap berada dalam darah lebih lama daripada bentuk oral atau injeksi lainnya.
Keuntungan lain dari TDDS adalah kemampuan untuk mengurangi efek samping gastrointestinal ketika obat diminum, atau untuk pasien yang menderita masalah menelan, dan juga mengurangi efek samping yang disebabkan oleh metabolisme bahan aktif di jantung dan lapisan kulit epidermis begitu tambalan terlepas dari kulit.
Mengacu pada survei yang dilakukan oleh Nielsen di 11 kota utama di Indonesia, 2 67% dari generasi muda berusia 20 hingga 29 tahun terutama adalah pekerja pertama yang berasal dari kelas menengah. Dengan cara berpikir yang berbeda dibandingkan dengan penggantinya, mereka membangun diri sebagai individu yang memberikan yang terbaik untuk mencapai impian mereka sambil tetap sadar akan kesehatan, menikmati hidup, selalu terlihat menarik dan memiliki kesadaran untuk berkontribusi kepada masyarakat di antara kesibukan mereka. kehidupan sehari-hari dan memberi perhatian pada masalah keluarga.