Salonpas® Encourages Collaborative Synergy of Young People to Spread Goodness through 'Rekatkan Kehangatan' Movement.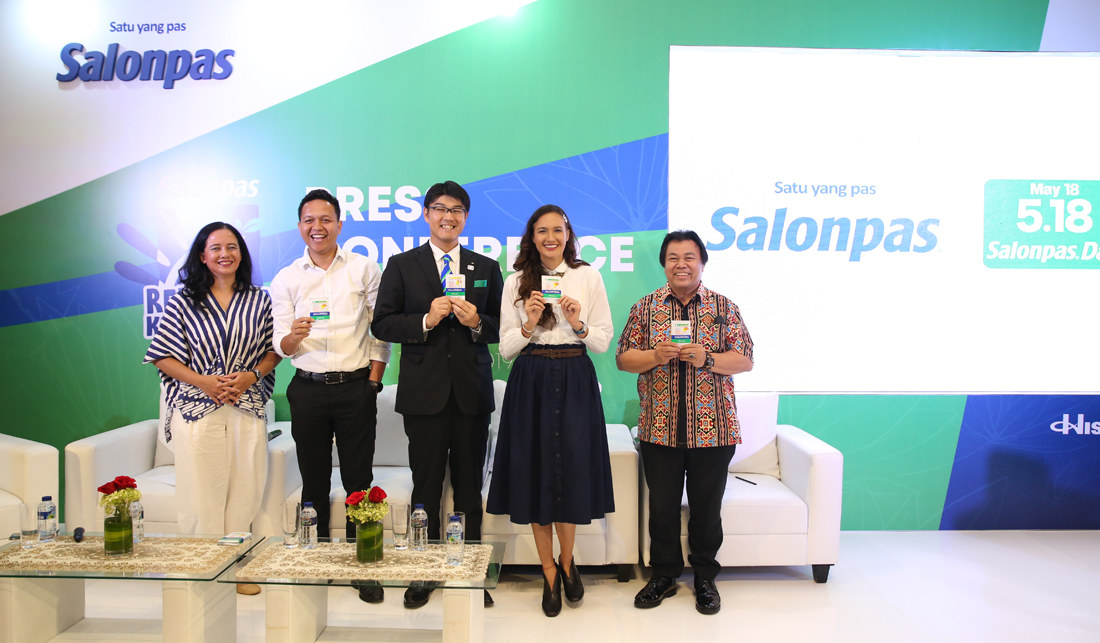 The number of young people users (15-24 years old) of Salonpas® continues to increase from 22% to 27%
Using a digital approach to spread inspirational unyielding creativity, productivity and positive synergy among Salonpas users, including young people
This year 'Rekatkan Kehangatan' focuses on planting mangroves on the North Coast of Java Island, involving high school students in Central Java, communities, and people around the coast.
Jakarta, May 17, 2019 - PT Hisamitsu Pharma Indonesia with its legendary product, Koyo Salonpas® - as the number one topical analgesic patch product in the world, is again inviting (reinvite) young Indonesians to collaborate in taking concrete actions that are beneficial and have a positive impact on the wider environment through movement philosophically entitled 'Rekatkan Kehangatan'.

President Director of PT Hisamitsu Pharma Indonesia, Kato Hirofumi, said, "The Movement 'Rekatkan Kehangatan' stands on Hisamitsu Global's vision and mission in contributing to improve the quality of life of every individual in the world through the dissemination of patch treatment culture. In line with the vision, mission, and its philosophy, we held a "Rekatkan Kehangatan' movement that aims to spread positive inspiration and unyielding spirit among the wider community, including young people, to jointly carry out the contributing, caring and friendly concrete actions, to create the better quality of the environment and surrounding community. "

The involvement of young people on this movement has an important meaning. According to him this is also related to the trend on the number of Salonpas® Koyo users from young people steadily increasing. This trend encourages Salonpas® to continue encouraging its users to be confident in spreading positive inspiration through works and real actions.

Meanwhile, Product Manager of PT. Hisamitsu Pharma Indonesia, Zulfadli informed that the movement which first began in 2018 has a variety of unlimited activities. After previously inviting young families to clean the mountain from garbage, doing activities in public area to do exercise and body movements, this year Salonpas® invites young generation to take care of environment ecosystem through mangrove planting movement.

"The essence of 'Rekatkan Kehangatan' Koyo Salonpas® is to spread inspirations so that more people are moved to participate to do some good things for their environment. Salonpas socialized this movement in 24 campuses in various regions in Indonesia to invite them to be directly involved or to do their positive activities and share it on their social media and also to encourage other people to do so" Said Zulfadli

"We are optimistic this movement will be well received by young generation. We hope, the use of social media by young people who are involved in this movement will be affective on promoting the goodness of 'Rekatkan Kehangatan' in wider community. As we all know, Indonesia is facing demographic bonus of its very digital literacy Gen Y and Gen Z which are more than 90 million people. They are a productive generation that should be encouraged continuously so they will always create creativity and contribute to their nation" He continued.

Mangrove Planting Movement which is involving young generation as the theme of 'Rekatkan Kehangatan' received a positive response from Marine and Mangrove Sicence Expert from Institut Pertanian Bogor, Prof Dietriech Bengen. He said, Indonesia is an archipelago country which has nearly 100 km coast line and currently threatened by the increasing of sea water level due to a climate change.

"The rising of sea water level in many region has caused erosion and abrasion. One of supporting factor of abrasion and erosion in coast area is the damage of mangrove. The replanting of mangroves in the coast area, absolutely, is one of an effective way to prevent abrasion, land subsidence, and to repair costal areas in Indonesia. However, other than that, replanting mangrove is not only have a positive impact on ecology, but also on social and economy" Said Prof. Dietriech Bengen.

Meanwhile, psychologist from University of Indonesia, Anna Surti Ariani, S.Psi. M.Sc., gave responses from different perspectives on the "Rekatkan Kehangatan" movement initiated by Koyo Salonpas®. Anna saw that the movement which invites young people who lives in the digital and social media era to act and work together to spread benefits to environment and surrounding nature is very positive for their mental and character.

Based on her opinion, digital and social media era is usually considered has been pushed so many community including young generation to do less direct interaction with others. It caused the lack of social connectivity among community and surrounding environment. Regarding of potential and self-competence, difficulties to interact will certainly disrupt their social live and empathy.

'Rekatkan Kehangatan' movement which emphasizes on collaborative, friendship and mutual cooperation spirit has been one of a good solution to help young generation to improve their interaction abilities, and also grow spirit of friendship, empathy, contribution, and respect to their surrounding environment" she said.

Inspirational brand Ambassador Salonpas®, Nadine Chandrawinata said "The real action which is done by young people who are involved in this movement make her so proud. What has been done is the real form of young generation's strong commitment in full friendship collaboration for the sustainability of their environment. By sharing unyielding spirit on their social media as a real action, I hope there will be more young people are inspired to do the same kindness.
Salonpas® Dorong Sinergi Kolaboratif Anak Muda Tebarkan Kebaikan melalui Gerakan 'Rekatkan Kehangatan'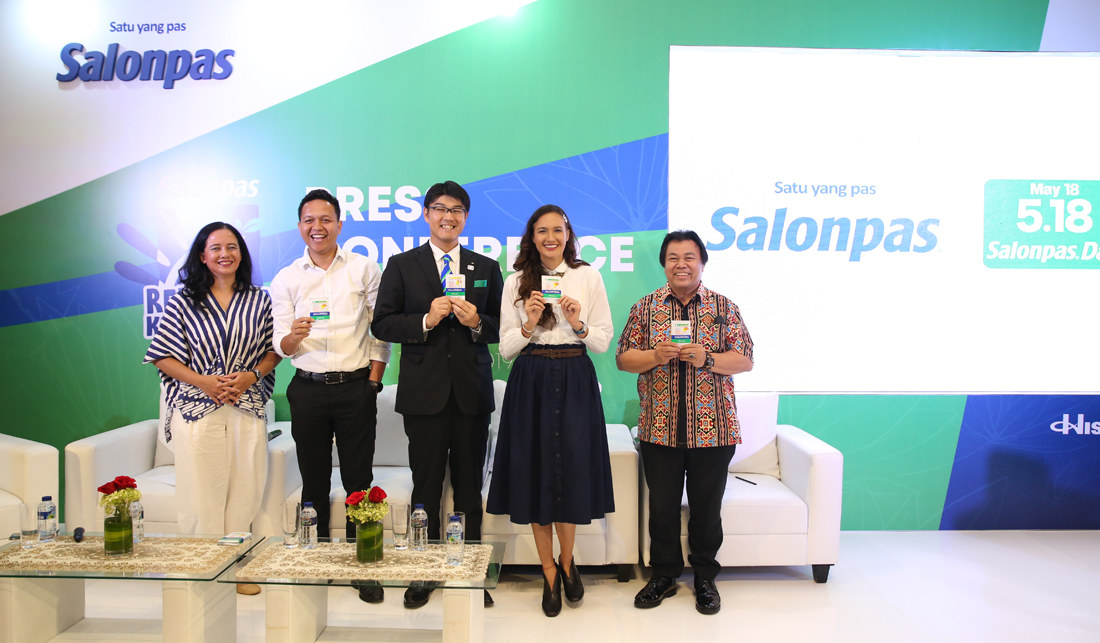 Jumlah kalangan muda (15-24 tahun) pengguna Koyo Salonpas® (15-24 tahun) terus meningkat dari 22% menjadi 27% 
Gunakan pendekatan digital untuk sebarkan inspirasi pantang letih berkreavitas, berproduktivitas dan bersinergi positif di kalangan pengguna Salonpas, termasuk anak muda 
'Rekatkan Kehangatan' tahun ini fokus pada kegiatan penanaman mangrove di Pantai Utara Pulau Jawa, libatkan mahasiswa perguran tinggi di Jawa Tengah, komunitas, dan masyarakat sekitar pesisir
Jakarta, 17 Mei 2019 – PT Hisamitsu Pharma Indonesia dengan produk legendarisnya, Koyo Salonpas® - sebagai produk obat bebas topical analgesic patch nomor satu di dunia , kembali mengajak anak muda Indonesia untuk berkolaborasi melakukan aksi nyata yang bermanfaat serta berdampak positif terhadap lingkungan luas melalui gerakan filosofisnya yang bertajuk 'Rekatkan Kehangatan'.

President Director PT Hisamitsu Pharma Indonesia, Kato Hirofumi, berujar, "Gerakan 'Rekatkan Kehangatan' berpijak pada visi-misi Hisamitsu global dalam turut meningkatkan kualitas hidup setiap invidu di dunia melalui penyebarluasan budaya pengobatan dengan patch.  Selaras dengan visi, misi, dan filosofinya tersebut, kami menggelar gerakan 'Rekatkan Kehangatan' yang bertujuan menyebarluaskan inspirasi positif dan semangat pantang merasa letih di kalangan masyarakat luas, termasuk kalangan muda, untuk bersama-sama melakukan aksi nyata yang kontributif, penuh kepedulian dan persahabatan, guna ikut mewujudkan kualitas lingkungan dan masyarakat sekitar yang lebih baik."

Pelibatan kalangan muda pada gerakan ini memiliki arti penting. Menurutnya ini juga terkait dengan tren jumlah pengguna Koyo Salonpas® dari kalangan anak muda terus menunjukkan peningkatan. Tren ini mendorong Salonpas® untuk terus menyemangati para penggunanya untuk selalu pantang merasa letih dalam menebar inspirasi positif melalui karya dan aksi nyata.

Sementara itu Product Manager PT Hisamitsu Pharma Indonesia, Zulfadli menginformasikan bahwa gerakan yang dimulai untuk kali pertama pada 2018 ini sejatinya memiliki ragam aktivitas yang tak terbatas. Setelah sebelumnya mengajak kalangan muda bersih-bersih gunung dari sampah, melakukan aktivitas di area publik untuk pantang malas melakukan gerak-badan, tahun ini Salonpas® mengajak kalangan muda untuk menjaga keutuhan ekosistem lingkungan melalui kegiatan menanam mangrove.

"Esensi gerakan 'Rekatkan Kehangatan', Koyo Salonpas® adalah menyebar inspirasi agar makin banyak masyarakat yang tergugah untuk turut melakukan kebaikan untuk lingkungannya, apapun jenis kebaikan yang mereka lakukan. Salonpas menyosialisasikan gerakan ini di 24 kampus di berbagai daerah di Indonesia guna mengajak mereka terlibat langsung, atau melakukan aktivitas positif sendiri untuk kemudian diunggah ke akun media sosial masing-masing serta menyerukan kepada orang lain untuk berbuat dan berbagi kisah kebaikan serupa," terang Zulfadli.

"Kami optimistis gerakan ini akan diterima dengan baik di kalangan anak muda. Kami berharap, penggunaan media sosial anak-anak muda yang bergabung dalam gerakan ini akan efektif dalam memasyarakatkan kebaikan 'Rekatkan Kehangatan' di kalangan masyarakat yang lebih luas. Sebab, seperti kita ketahui bersama, Indonesia tengah menghadapi bonus demografi di mana Gen Y serta Gen Z yang sangat melek digital saat ini jumlahnya sangat besar, lebih dari 90 juta jiwa. Mereka adalah generasi produktif yang harus terus kita dorong agar tak henti berkreativitas dan tak telah berkontribusi untuk bangsanya," lanjutnya.

Gerakan menanam mangrove dengan melibatkan kalangan muda yang menjadi tema gerakan 'Rekatkan Kehangatan' tahun ini mendapat sambutan positif dari pakar ilmu kelautan dan mangrove Institut Pertanian Bogor, Prof Dietriech Bengen. Ia mengatakan, Indonesia adalah negara kepulauan yang memiliki garis pantai hampir 100 ribu kilometer yang saat ini terancam oleh meningginya air laut akibat perubahan iklim.

"Meningginya air laut di banyak daerah telah mengakibatkan erosi dan abrasi. Salah satu faktor pendukung terjadinya abrasi dan erosi di daerah-daerah pesisir adalah rusaknya kawasan-kawasan mangrove. Penanaman kembali mangrove di pesisir tentu saja menjadi salah satu upaya efektif untuk mengantisipasi kemungkinan abrasi, penurunan permukaan tanah, dan rehabilitasi daerah-daerah dekat pantai di Indonesia. Namun, di luar itu, penyelamatan daerah pantai dan penanaman mangrove selain bisa berdampak positif pada ekologi, juga sosial dan ekonomi," ujar Prof Dietriech Bengen.

Sementara itu, pakar psikologi dari Universitas Indonesia, Anna Surti Ariani, S.Psi. M.Si., memberikan tanggapan dari sudut pandang yang berbeda terhadap gerakan 'Rekatkan Kehangatan' yang diinisiasi oleh Koyo Salonpas®. Anna melihat bahwa gerakan yang mengajak anak-anak muda yang hidup di era digital dan sosial media ini untuk beraksi bersama dan bahu-membahu menyebarkan manfaat kepada lingkungan dan alam sekitar adalah sangat positif untuk mental dan karakter mereka.

Menurutnya, era digital dan media sosial banyak diopinikan telah mendorong banyak masyarakat, termasuk kalangan muda untuk cenderung kurang dalam melakukan interaksi langsung dengan orang lain. Akibatnya, kontak sosial dengan masyarakat dan lingkungan sekitar menjadi menurun. Terkait dengan potensi dan kompetensi diri, kesulitan dalam berinteraksi tentu saja akan mengganggu kehidupan sosial dan empati mereka.

"Gerakan 'Rekatkan Kehangatan' yang menekankan pada semangat kolaboratif, persahabatan, dan gotong-royong, menjadi salah satu solusi yang baik untuk membantu anak-anak muda zaman now meningkatkan kemampuan berinteraksi, serta menumbuhkan semangat persahabatan, berempati, berkontribusi, dan menghargai lingkungan sekitarnya," ujarnya.

Inspirational brand Ambassador Salonpas®, Nadine Chandrawinata mengatakan, "Aksi nyata yang dilakukan oleh anak-anak muda yang terlibat dalam gerakan 'Rekatkan Kehangatan' Koyo Salonpas® sangat membanggakan. Apa yang telah dilakukan adalah bentuk nyata dari kuatnya komitmen kalangan muda untuk dalam berkolaborasi penuh persahabatan berbuat kebaikan untuk keberlangsungan lingkungannya. Dengan berbagi semangat untuk pantang letih dalam beraksi nyata melalui akun media sosial mereka, saya berharap makin banyak anak muda-anak muda lainnya terinspirasi untuk berbuat kebaikan yang sama."